Tacos Before the Turkey: Spilled Milk #146
This is the taco of your dreams. And unlike chile rellenos, you can eat quite a few of them!
It's the countdown to Turkey Day, the second biggest food day in America. It used to be No. 1, but it was usurped several years ago by Super Bowl Sunday. Regardless, it's a big food day, and I am a traditionalist, so I will shop and prep as much as I can this weekend and start getting my head wrapped around the family table. If you need help, this Complete Thanksgiving Guide is for you.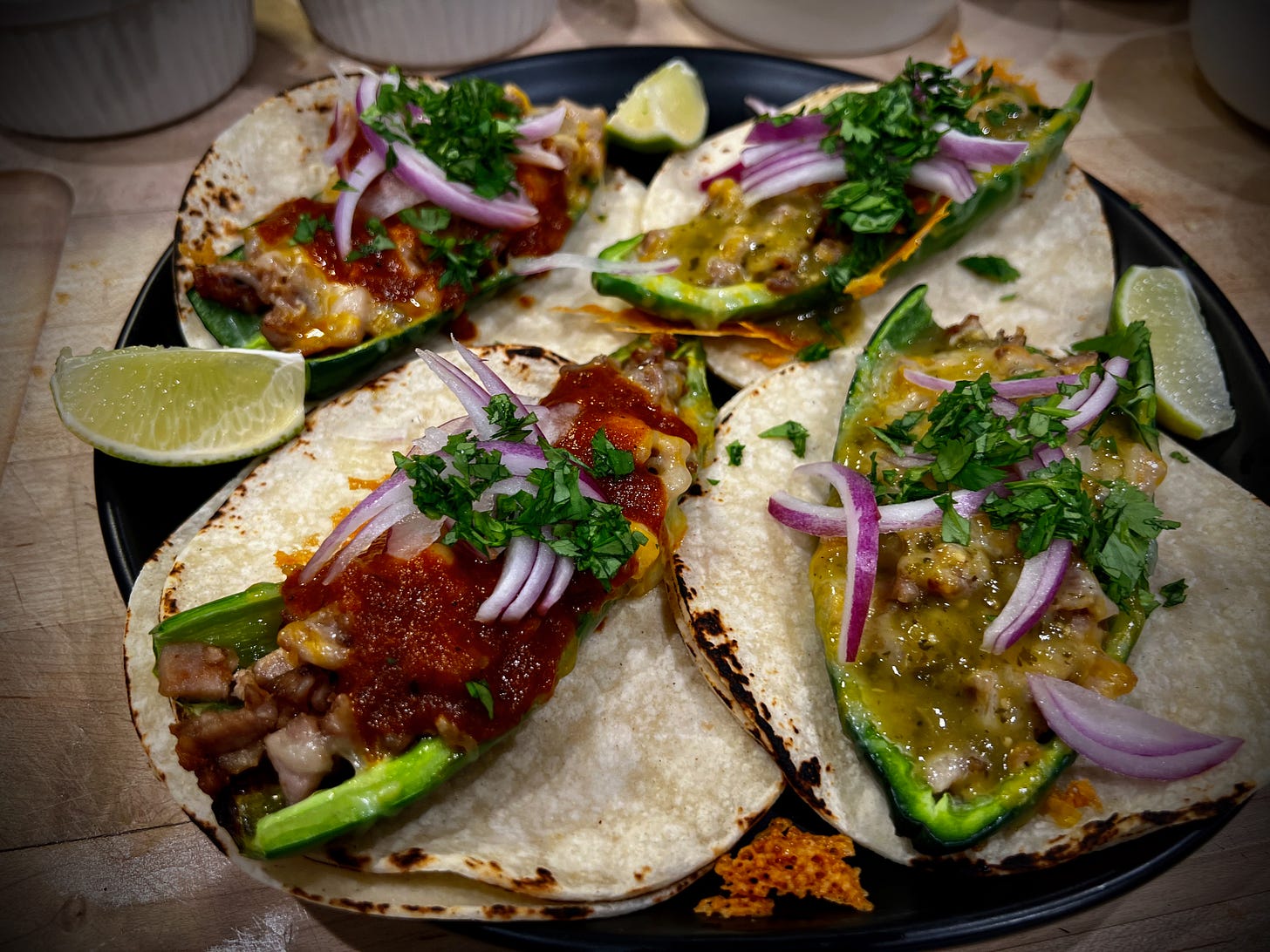 Until the weekend, and probably through it, I am cooking as usual, drawing inspiration from a slew of resources and fielding lots of requests from friends and family. Last night it was taco time at the Zimmern household.
Let me be clear, we love hundreds of types of tacos. These are MY current favorites. Pan-charred stuffed cheesy peppers make a delicious taco filling, and the charred soft pepper halves still retain their green vegetal quality despite the other ingredients creating an explosion of flavors. The peppers stand up perfectly to the cheese as well, and they're the perfect platform for the pork.
People ask how I do it all. The truth is, I don't. For a few dollars a month, you can support Spilled Milk and the team that makes it.
You can use whatever filling you like for the peppers. I make this with leftover chicken thighs, thinly sliced steak or chopped shrimp more often than not, but a few nights ago I made a pork roast that was one of the best I have ever tasted. I got it from D'Artagnan; it's their milk-fed porcelet collar roast. It cooks up crispy with the most profoundly delicious pork flavor I have had in years. I have three in my freezer, and I can't encourage you more fervently to buy this cut.
I had a softball-sized end left over, so I sliced it thin, chopped it and pan-fried it until it was crispy and browned. I filled pepper halves with the meat, and I was on my way. You won't be sorry you made this one.
Stuffed Pepper Tacos
Keep reading with a 7-day free trial
Subscribe to Andrew Zimmern's Spilled Milk to keep reading this post and get 7 days of free access to the full post archives.